Silent Echoes of the 21st Century – ERAMAA TRIO and Sonia LARDY
dimanche 21 mai 16 h 00 min
17 h 15 min
Reservation required by e-mail : brayerandreeclaude@gmail.com
(FR) – (NL) – (EN) – (CN)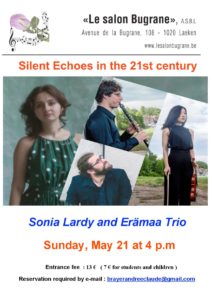 this remarkable trio invites a singer who is deeply committed to contemporary music.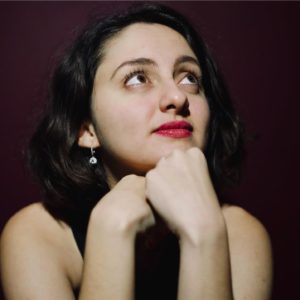 They do us the honor of creating two works at the Salon Bugrane
They perform works by
« SILENT ECHOES »
Program
Clarté sidérale(2019/2023) for soprano, violin, clarinet and piano : Jean-Pierre Deleuze (1954-)
Wishing Well (1986) for soprano, clarinet, viola and piano : Edison Denisov (1929-1996)
Natasha trio (2006) for  soprano, violin, clarinet and piano : Peter Eötvös (1944-)
Rosary Songs, Op.9 (2001) for soprano, clarinet, viola and piano : Oliver Knussen (1952-2018)
Deux itinérances (2016/2022) for violin, bass clarinet and piano : Claude Ledoux (1960-)
Ô Silence (2023) for soprano, bass clarinet, viola and piano : Xu Yi (1963-)
ô silence ! (extrait)
Marie Closset (1873-1952) (Jean Dominique) L'ombre des roses (Ed. du Cyclamen, 1901)
Puisque je t'ai perdu ô silence! c'est toi que je chanterai d'abord.
Puisque je t'ai aimé plus que Tout, je te chanterai avec une voix,
toi qui es sans voix. Puisque je t'ai trahi,
toi plus adoré que l'Amour,
je te trahirai encore et je te glorifierai.
O Silence, j'ai tenu serré entre mes lèvres, ta fierté pure, et j'étais un enfant.
– O silence, un enfant seul a la grandeur de se taire.
The Poem of Silence
O silence! (excerpt)
Since I have lost you, O silence! It is you whom I will sing first.
Since I have loved you more than everything, I will sing you with a voice,
You who are voiceless. Since I have betrayed you,
You who are more adored than Love, I will betray you again and glorify you.
O Silence, I held your pure pride tightly between my lips, and I was a child.
 – O silence, only a child has the greatness to be silent.
Sonia LARDY is a Franco-Romanian soprano. After beginning her musical studies with the violin, guitar, and piano, she decided to devote herself to singing.
She trained at the Royal Conservatory of Mons in the class of Thierry Migliorini and Axel Everaert, where she obtained two master's degrees in specialization and pedagogy.
During this period, Sonia participated in several stage productions with the Camera Lirica in the operetta repertoire, as well as through the MM Academy, an academy for young singers founded by La Monnaie, and also joined the choirs of the Verbier Festival during the summer of 2016. She recently sang Papagena and the Zweite Knabe in Die Zauberflöte with the Lyric Opera Studio of Weimar in August 2021.
Sonia discovered a real passion for chamber music during her studies, and was particularly interested in melody. Since 2019, she has formed a duo with pianist Julien Lejeune, and participates with him in the 2022-2023 season of the Udo Reinemann Masterclasses (URIM) at La Monnaie in Brussels.
Her curiosity for new music led her to participate in the creation of works from Claude Ledoux's composition class. She recently took part in the recording of a CD featuring pieces by the young Belgian composer Apolline Jesupret in collaboration with the Hopper Ensemble.
Sonia also deepened her knowledge of theater with Christophe Vander at Art-T Brussels, and then with Christine Hadida at Way To Stage. She continues to train with mezzo-soprano Marie-Laure Coenjarts.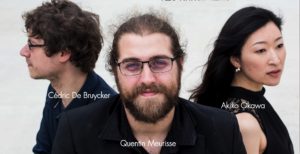 What is the « Trio Erämaa »? If the first word, trio, is self-explanatory due to the three musicians, the second remains enigmatic.
In Finnish, Erämaa evokes the desert, a wasteland, a place untouched by human action, where nature has remained the sole mistress. Thus, it evokes new territories to explore, discover, and reveal to the world.
The musicians of the Trio Erämaa take you on a journey exploring the soundscapes of the 20th and 21st centuries.
The Trio Erämaa was founded in 2016 by three musicians from the Royal Conservatory of Brussels as well as the Hogeschool of Gent specializing in contemporary music, with ensembles Ictus and Spectra, and in historically informed performance.
The Trio regularly collaborates with other musicians to develop a repertoire with vocals and other instruments, as well as a repertoire with live electronics and video.
The ensemble is resolutely focused on 20th and 21st century music, trying to include the different styles that it encompasses in order to offer the public as wide a range as possible of the diversity of today's music.
In November 2017, Trio Erämaa won first prize at the Léopold Bellan international competition and is recognized by Art&Vie.
Erämaa regularly performs in venues and festivals such as the Loop festival, the Royal Academy of Belgium, the Belgian Music Days, the Royal Conservatory of Brussels, and frequently plays in Belgium, France, and Japan.
The « Trio Erämaa » performed at the Salon Bugrane to explore musical landscapes
from the early 20th century to the present day
with works by R. Schumann, G. Kurtag, Khatchaturian,
Jörg Widmann, and MICHEL LYSIGHT (in world premiere!).