Flute-Piano Recital
dimanche 19 mars 16 h 00 min
17 h 00 min
Reservation required by e-mail : brayerandreeclaude@gmail.com
Sonatas
by
Ludwig van BEETHOVEN
and
Carl

 

REINECKE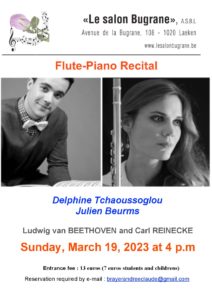 Delphine TCHAOUSSOGLOU, flute
Julien BEURMS, piano.
Passionate, dynamic, and enterprising, Delphine and Julien form a well-liked duo for their generosity, sensitivity, and complete dedication to music. They offer a program consisting of masterpieces from the repertoire for flute and piano: Ludwig van Beethoven's sonata and Reinecke's sonata.
Their program is full of thrills, with a few surprises in store.
Delphine Tchaoussoglou
Delphine Tchaoussoglou graduated from the Koninklijk Conservatorium van Brussels in the class of Carlos Bruneel in flute and Peter Verhoyen in piccolo. She held the position of principal flute in the Brussels Philharmonic Orchestra for nearly ten years.
She has toured extensively in Belgium, France, Luxembourg, Switzerland, Spain, Turkey, Poland, and the Czech Republic, and has performed chamber music with Malwina Lipiec (harp), Yuka Izutsu (piano), Lily Maïsky (piano), Olga Konokova (piano), André Siwy (violin), Lyda Chen Argerich (viola), and her husband Julien Beurms (piano).
As a soloist, she has been accompanied by the Arpeggio Orchestra, the Orkiestra Akademii Beethovenowskiej in Krakow, and the Brussels Philharmonic Orchestra, among others. She has participated in numerous musical projects, including the production of CDs.
Julien Beurms
Julien Beurms made his orchestral debut at the age of twelve, performing Chopin's Piano Concerto No. 2 with the orchestra of his academy. He later studied at the Royal Conservatory of Mons in the class of Johan Schmidt and at the New England Conservatory of Boston in the class of Victor Rosenbaum.
He has been invited to perform in Belgium, France, Italy, Iceland, Israel, and the United States in prestigious venues such as Jordan Hall in Boston, Harvard University in Cambridge, deSingel in Antwerp, Flagey in Brussels, and the Palais des Beaux-Arts in Charleroi.
He has held the position of assistant professor of piano at the New England Conservatory and has regularly been solicited as a teacher in Belgium. In 2014, he founded the Brussels Chamber Music Festival, an international chamber music festival which he directed until 2018.
Since 2019, he has been the general director of Jeunesses Musicales in the Wallonia-Brussels Federation, an organization that organizes concerts, music workshops, and camps for more than 250,000 children each year.