Duo Deseo – Southern Music – Guitar and Cello
dimanche 9 avril 16 h 00 min
17 h 15 min
Reservation required by e-mail : brayerandreeclaude@gmail.com
(FR) – (NL) – (EN) – (ES)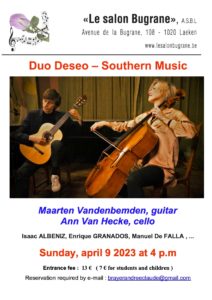 guitar 
cello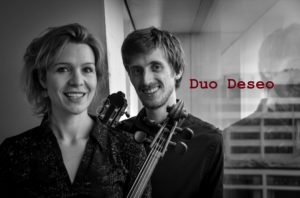 perform works by
Isaac ALBENIZ,  Enrique GRANADOS, 
Manuel De FALLA , and others.
See more details on : www.duodeseo.be
Maarten Vandenbemden, guitar, and Ann Van Hecke, cello, perform works by Isaac Albéniz, Enrique Granados, Manuel De Falla, and others.
These two artists achieve a perfect fusion between the guitar and cello, through their inventive interpretations of well-known and lesser-known South American, Spanish, and Catalan music.
Ann Van Hecke and Maarten Vandenbemden will take you on an unforgettable musical journey, creating an original and electrifying atmosphere!
The DUO DESEO develops a unique style that is both highly musical and virtuosic!
Ann VAN  HECKE, cello
She studied at the conservatory in Antwerp (Belgium) with France Springuel, where she received the highest honors for cello. Her personal quest for technical and musical perfection led her to study with Tilmann Wick in Hanover (Germany), and also through international masterclasses with Anner Bylsma, Christoph Richter, Martti Rousi, Michal Kanka, Alexander Ivashkin, Marcio Carneiro and Vladimir Perlin.
Ann Van Hecke has successfully participated in several competitions, including winning first prizes at the « Concours national Dexia » and « Jeunes Musiciens ». However, it is in her professional work where she gained the most experience, for example in numerous orchestra projects.
As a soloist, she has performed concertos (Haydn Concerto, Beethoven Triple Concerto, Queen Symphony, etc.) with orchestras such as Kreato, Artis Dulcedo, Brass Band Wiekevorst, Aurora Borealis, Arenberg Orchestra, Brass Friends Lembeek, and others.
As a chamber musician, she has played in several professional ensembles. Today, she performs with Duo Deseo, alongside guitarist Maarten Vandenbemden, and in a duo with pianist Bart Meynckens.
Ann Van Hecke has performed in Belgium and abroad (France, Netherlands, Germany, Greece, Bosnia).
Maarten VANDENBEMDEN, guitar
Maarten Vandenbemden was born into a house full of guitars and received his first guitar lessons from his father. Thirteen years later, his path led him to the class of Antigoni Goni at the Royal Conservatory of Brussels, where he graduated « summa cum laude » in guitar and musical composition.
He has performed as a soloist with various orchestras, at Bozar (Brussels) and at the Royal Palace of Caserta, and has played from Italy to Jordan.
With a special love for chamber music, he regularly performs with singers Noémie Schellens and Kobe Baeyens, with cellist Ann Van Hecke, and in the colorful formation of two tenors and two guitars, such as « Los Reyes de la Baraja ».
Since 2018, Maarten has been the fourth member of the Four Aces guitar quartet, with whom the album « Tabula Rasa » was released in 2019 and who was granted permission for a tour in China in the summer of that year.
Maarten now teaches applied and written harmony at the Royal Conservatory of Brussels. As a guitar teacher, he is also affiliated with the Academy of Halle.
Since 2016, Maarten has also been actively involved in the Volterra Project, an innovative summer guitar workshop, and in Mobile Music Playground, a project that introduces Brussels children to classical music.