The magic of the harp – Virginia Pestugia
dimanche 26 novembre 16 h 01 min
17 h 15 min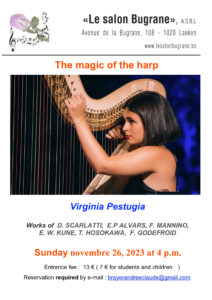 Program of « the magic of the harp »
D. Scarlatti
Sonata K208
___
E.P Alvars
Sérénade op.83
___
F. Mannino
Tre Canzoni per Arpa op.205
___
E. W. Kune
Fantasie sur un thème de Eugene Onegin de Pyotr Ilyich Tchaikovsky
___
T. Hosokawa
Two Japanase Folk Songs
___
F. Godefroid
Le Carnaval de Venise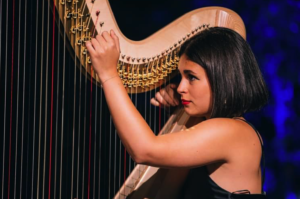 Virginia Pestugia
Born in 1999, she began studying harp with Alessandra Trentin, then continued her studies with Patrizia Tassini at the "Jacopo Tomadini" Conservatory in Udine where she obtained the Bachelor Degree in Harp (110/110 with honors). Currently, she studies at the Royal Conservatory of Brussels with Annie Lavoisier.
She has been awarded in more than 20 national and international competitions, among which: the first prize at the 5th International Competition of the Slovenian Harp Association in Velenje, the first prize at the XII International Competition of Harp "M.Tournier" and the first prize at the Korea International Harp Competition 2022. She has just won the second Prize at the International Harp Competition "Suoni d'Arpa" in Saluzzo.
Virginia was chosen as harpist of the orchestra "Kodály Zoltán World Youth Orchestra" of Debrecen (Hungary) in the context of the "Young Musicians' Summer Academy", directed by Vásáry Tamás with which she performed on tour in July 2019.
She was selected, along with 24 other young harpists from around the world, to participate in the "Focus on Youth", a competition that took place as part of the "World Harp Congress" in Cardiff in 2021.
She has been perfected with Isabelle Perrin and Alexander Boldachev. Virginia has performed both as a soloist and in chamber ensemble in important halls such as the Teatro La Fenice (Venice, Italy), at the Castello Sforzesco for RAI International (Milan, Italy), at the Harmonie-Sale (Bamberg, Germany) and at the Brussels Parliament (Brussels).