NOH Orchestra – Creation of a string orchestra
jeudi 9 mars 18 h 30 min
20 h 15 min
Reservation required by e-mail : brayerandreeclaude@gmail.com
Conductor : Andrée-Claude Brayer
( link to CV)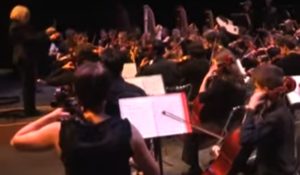 Photo taken from video :  CRR de Cergy-Pontoise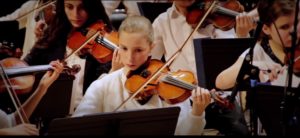 Photo taken from video :  Funkable – Show You All My Love (LIVE)
Do you like the string orchestra? Do you master your instrument well (violin, viola, cello, double bass)?
Do you appreciate the varied programs, ranging from Vivaldi to Arvo Pärt, including film music, world music, and why not jazz, or even rap?
Are you looking for conviviality, the multigenerational side does not bother you, do you feel good in a relaxed but demanding atmosphere?
Do you feel pleasure accompanying one or more soloists (singer, guitarist, harpsichordist, pianist, etc.)?
Will you be able to make yourself available every week for a rehearsal of about an hour and a half?
So join us
Thursday, March 9 at 6:30 p.m.
equipped with your instrument, your desk if possible, and your curiosity…
to the following address :
Rue St Pierre et Paul 15
1120 Bruxelles
You can park your vehicle nearby (in front of the door, ring the doorbell and we will let you in) and after climbing a few meters, you will see the entrance to the Atrium where we will rehearse every week.
Our rehearsal room is very beautiful, large, pleasant, it is equipped with a brand new grand piano, an electronic harpsichord (for concerts you will have a « real » harpsichord!) and acoustic shells which perfectly retain the sound by greatly improving the acoustics of the Atrium…
If you know any interested musicians, please pass the information on to them…Thank you in advance for your support…
See you soon and have a great week…!
Andrée-Claude.
tel 0489 45 45 80
and here is my c-v (so you can get to know me! )
Andrée-Claude Brayer – CV
Pianist, conductor ( chevalier de l'Ordre des Arts et des Lettres )
Coming from a family of artists, at the age of 16 she obtained a unanimous First Prize for piano at the National Conservatory of Nancy and continued her musical studies in Paris with Alain Weber (writing, harmony, counterpoint), Roger Boutry (choir and orchestra direction) Irène Joachim (vocals) then at the Haute Ecole de Genève in orchestra direction (Arpad Gerecz), choir direction (Michel Corboz) and orchestration (Pierre Wissmer).
Professor at the National Conservatory of Grenoble at the age of 22, (1st Prize of the Fondation de France for her activities as a conductor in the Rhône-Alpes region), she continued her training as a conductor with Michel Mercier, (Orchestre National d'Ile de France) and in the field of contemporary music (Magnus Lindberg, Lorraine Vaillancourt, etc.)
First woman received in the contest of director of National Conservatory of Region, she directed until 2015 the Conservatory with regional radiation of Cergy-Pontoise) (CRR of Cergy-Pontoise) and installed there in partnership with the University of Cergy-Pontoise, a Letters and Arts Degree divided into three courses, music, dance and theater.
With the Orchester-Studio de Cergy-Pontoise, a variable-geometry chamber formation bringing together high-quality professionals, she gave more than 600 concerts in the Paris region, but also abroad (Japan, China, Vietnam, New Caledonia, Poland, Italy, Belgium, etc…)
She orchestrated and then conducted, for small chamber orchestra, « le mariage secret » de Cimarosa (60 performances) and « Lo Speziale » by Haydn (90 performances), directed by Anne-Marie LAZARINI, at the Théâtre Artistic Athévains in Paris (11th arrondissement). She will also bring to life « les Rencontres internationales de composition musicale de Cergy-Pontoise » (60 creations from 2000 to 2014) .
With the Symphonic Orchestra of the Conservatory, in collaboration with the National Scene of Cergy-Pontoise (director Jean-Joêl Le Chapelain) will be mounted about fifteen operas (Carmen with Frédéric Bang-Rouhet in the role of Escamillo, Orpheus and Eurydice by Gluck with Béatrice Massin,  La Traviata with Isabelle Philippe and Anne-Marie Lazzarini, and Lucia de Lammermoor with Isabelle Philippe and Antoine Caubet, West Side Story on a staging of Charlie Brozzoni and a choreography by Charles Cré-Ange,  Cosi fan tutte, … , le Barbier de Séville staged by Gérald Chatelain, etc…); great directors and magnificent singers will thus regularly perform at the Théâtre des Louvrais in Pontoise…
Shortly after her arrival in Brussels, she created, the ASBL « le Salon Bugrane » which offers « at home » about ten concerts a year, presenting young talented and motivated artists…