Catharsis Ensemble – power and beauty of the women voices
dimanche 12 février 16 h 00 min
17 h 15 min
Reservation required by e-mail : brayerandreeclaude@gmail.com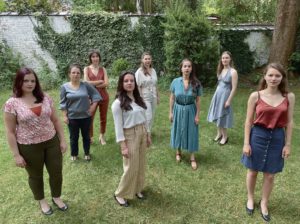 Catharsis is a vocal ensemble from Brussels made up of eight female opera singers who explore multiple repertoires in search of a lush and colourful sound.
They combine the richness of their origins and their singular backgrounds around the common exploration of a feminine musical heritage, which folklore and the dialogue between the arts both
nourish and expand.
Catharsis wants to immerse the audience in an experience that releases the power and beauty of the female voice.
The immersion in this sensitive and sonorous experience makes each concert, for all audiences, a privileged encounter.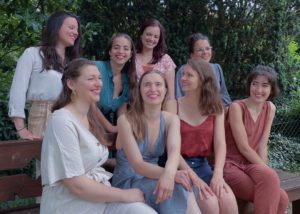 Ana Luiza de Oliveira
Caroline Cajot
Clara Legros
Elisabeth Ternisien
Esther Fischer-Barnicol
Juliette Briand
Kateřina Blížkovská
Zoe Rialan
REPERTOIRE
Some major composers including:
G. P. Da PALESTRINA, Carlotta FERRARI, Anthony HOLBORNE,
Thomas MORLEY, John DOWLAND, Caroline SHAW, … ,
Thomas RAVENSCROFT…etc…
THIS  EVENT IS ALSO ACCESSIBLE ON FACEBOOK 
The event could be broadcast online if the demand
is expressed by a sufficient audience
( Share with others and write about your opinion! )
https://www.facebook.com/events/611237474097899
(EN) Downloadable concert flyer ( JPG Format ) -> Flyer Catharsis Ensemble – february 12  – power and beauty of the female voices (jpg)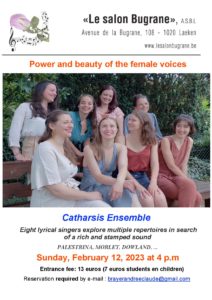 (NL) Downloadbare concertflyer (  jpg formaat) –>  Flyer Catharsis Ensemble -12 februari – kracht en schoonheid van vrauwenstem (jpg)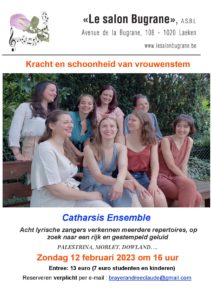 (FR) Flyer du concert téléchargeable ( format jpg ) –>  Flyer Ensemble Catharsis – 12 février – puissance et beauté de la voix féminine (jpg)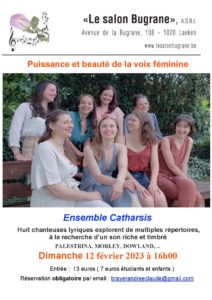 (EN) Downloadable concert flyer ( PDF Format ) -> Flyer Catharsis Ensemble – february 12  – power and beauty of the female voices (pdf)
(NL) Downloadbare concertflyer (  pdf formaat ) –>  Flyer Catharsis Ensemble -12 februari – kracht en schoonheid van vrauwenstem (pdf)
(FR) Flyer du concert téléchargeable ( format pdf ) –>  Flyer Ensemble Catharsis – 12 février – puissance et beauté de la voix féminine (pdf)